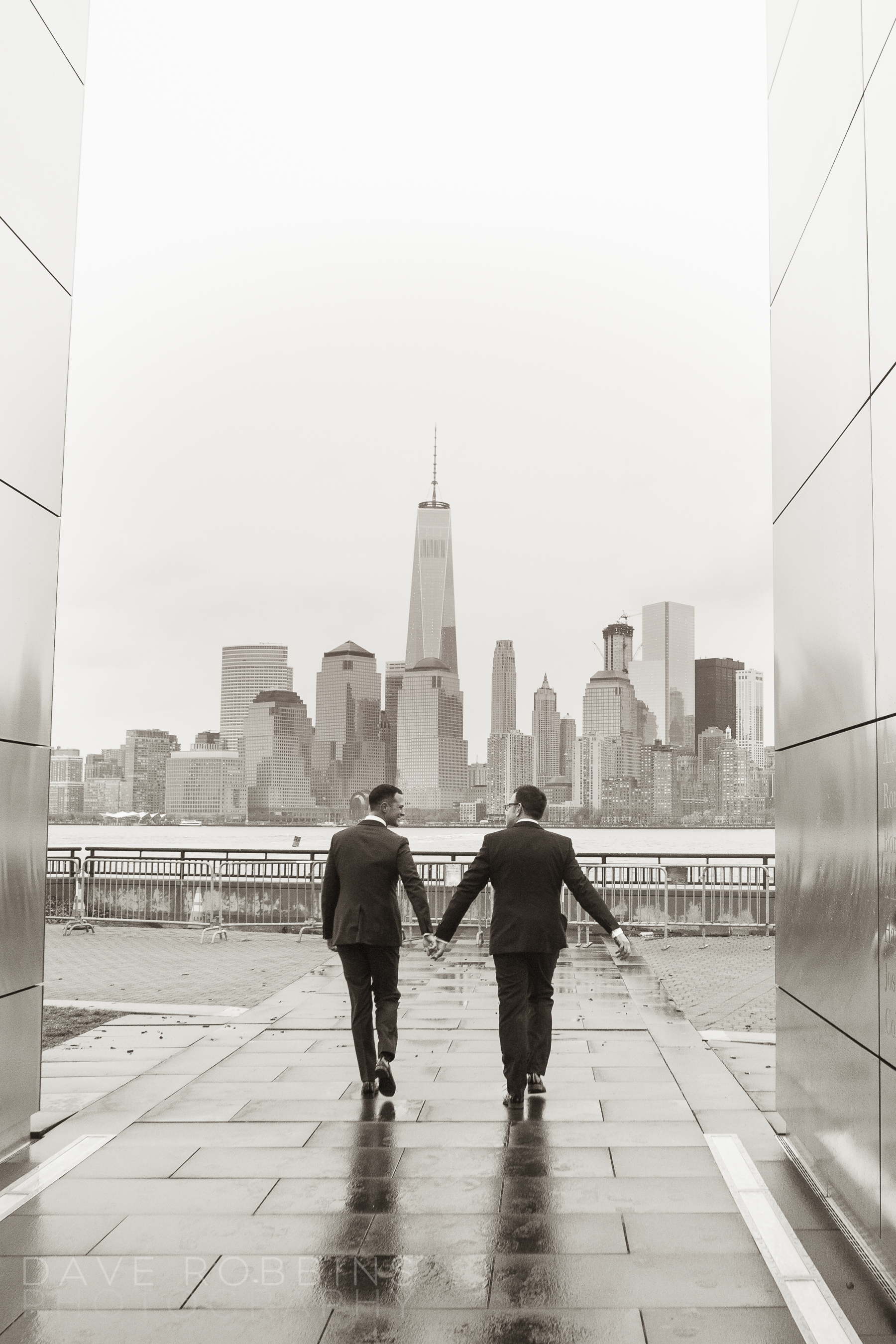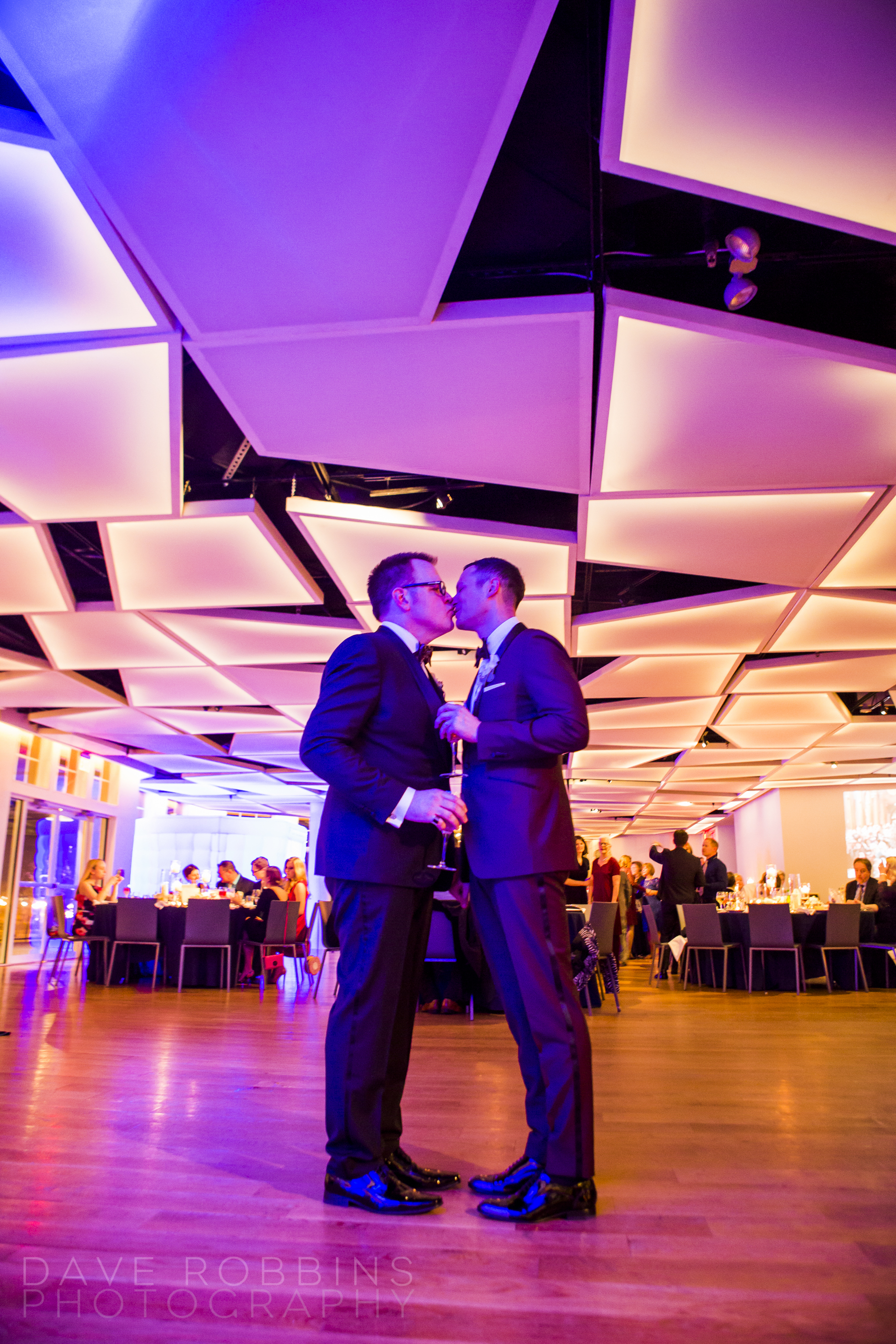 All weddings are wonderful. But some stand out as truly magical - the chemistry in the air is tangible. Patrick & Karl is one of those stories. While I'd love to tell you about it more, I simply couldn't do it justice. Here's their story, in their own words – DR.
Our Story
New York City. April, 2005. This is where our love story begins, where we would first cross paths with one another. A night that would change our lives forever.
It was a beautiful evening in New York City, and we were both headed to same party. You've heard of instant connections? That's exactly what happened. As Karl says, "The first time I laid eyes on Patrick was like the lyrics to the musical Big Fish: 'Time stops but your heart is beating. Time stops though you don't take a breath.'" The chance meeting, the ease of our conversation, and the bond we formed was unique. This was something different. We fell in love.
We learned so much about one another that night. We learned even more in the coming weeks and months, as we discovered a mutual love of musical theater, movies, television, and pop culture. We were simply in sync. And on one very special evening (August 19, 2005, to be exact), we finally proclaimed our relationship was official.
Over the past 12 years, we've enjoyed many exciting adventures together – including trips to England, Sweden, Mexico, Walt Disney World, Disneyland, and several cruises aboard Disney Cruise Line, building the story of our lives. It was aboard Disney's ship, The Fantasy, on October 22, 2005, that we that we would get engaged and embark on our biggest adventure yet.
"At first, looking back, it was difficult for us to find a singular moment that compared to the day Karl proposed to me on St. Thomas," said Patrick. "That is, until our wedding day on April 9, 2016." Every moment from there on led up to the most important day in our lives, when we would be joined together as one in heart and mind.
About The Day
One of the best pieces of advice was from friend who said, "at some point during your reception, take hold of your husband's hand and sneak away to find a moment to just look around the room and take it all in. Every person in that room is there for the both of you: because of how you've each touched their lives and vice versa." Words were never more true and we're so glad we did: it remains a magical moment that we cherish to this day.
All fairytale weddings have little details and treasures unseen by most. "My burgundy tuxedo," said Patrick, "was built entirely from scratch. I chose every element – from the colors and style right down to having our names embroidered on the inside collar and our wedding date on the inside lining.
Our wedding rings have a small inscription on the inside that reads "Everything." It's not only because that's what we mean to each other, it's also symbolic. The song "Everything" by Michael Buble was our official wedding song, and our first dance. "The first time I took Patrick to my former job at The View, it was to meet and hear Michael Buble sing live," said Karl. "We've seen him perform three times in different venues, and his song 'Everything' captures exactly how we feel about one another. We've always felt as if it was written just for us."
Personal Touches & Unplanned Moments
What truly made the day special was the personal touches we implemented. "We shared our love of all things Disney by placing Tsum Tsum's at all the kids' table settings, which was a fun touch for adults and kids alike." said Karl. "Mini Absolut bottles with a tag that read 'Drink Me' both honored my father (who was of Swedish descent) and gave a nod to Patrick's favorite Disney movie, 'Alice in Wonderland.' And my sister read her speech both in English and Swedish to honor our Swedish family, many of whom traveled from afar to be with us on our wedding day."
Our memory table was filled with photographs of family members, friends, and incredible folks who are no longer with us but who were all huge influences in our lives and helped shape us into the men we've become. One special photo was of our beloved Pee Wee, Patrick's best friend Carrie's dog who passed away the prior Christmas.
When it came to vows, our own creative styles showed through. "I wrote my vows weeks, if not months, before, with Joy Behar looking them over and offering her thoughts. Meanwhile, Karl had been jotting down notes for months, storing away ideas that popped into his head, and wrote his vows the morning of the wedding."
With weddings, like life, you have to be ready to improvise. These unplanned moments usually wind up being some of the best memories. "Karl actually had to cut the tops off of his beautiful new socks because they were so tight and cutting off the circulation around his ankles," said Patrick. "It's one of our favorite memories – hilarious, ingenious, and so Karl."
Capturing the Day
On the afternoon of our wedding day, just before the ceremony, we ventured outside with Dave Robbins for some portraits. Armed with an umbrella, we faced cloudy gray skies and drizzling rain, but that didn't dampen our spirits. We headed toward the 911 memorial in Jersey City with its scenic backdrop of lower Manhattan in the distance, capturing our reflections in the puddles along the way. We found ourselves along the train tracks and discovered a vintage train – which became the backdrop for some of the most gorgeous moments of the two of us ever captured on film.
We shared fun, nervous laughter as we were instructed to "kiss," "hold hands," or "embrace." Since neither one of use are big on PDA, it was out of character. Dave had a way of making it fun, and feel natural. What we remember most, though, were the whistles, honks, and cheers of congratulations coming from cars and passersby along the way.
Thanks to the amazing talents of Dave Robbins and his team, we have a lifetime of memories. Every aspect of our dream wedding was captured on film that we can look at and enjoy for a lifetime. Much of Dave's incredible work hangs on the walls in our home. One photo we truly cherish features our entire families, kids, Karl's best man, Pinto Naravane and Patrick's Best Woman/Woman of Honor, Carrie Gardner, and, of course, Joy Behar, who performed our ceremony. In full transparency, we have more than a few favorites, especially one shot of us seated at our reception table, laughing and exuding joy. When we first met our wedding planner we told her three things we required to make our day absolutely perfect, one of them being F-U-N. That element came to life, and this photo captured it beautifully.
Words truly can't describe all the love, emotion, and nerves you feel on your wedding day. This is why it is absolutely essential to have a genius with an artistic eye behind the camera, but who can also put you at ease, make you feel comfortable, and implicitly trust his instincts. We are grateful to have found Dave, who artfully captured the real, natural, and beautiful emotion of our day.
CREDITS:
Wedding Planning and Design: Chandelier Events
Flowers and Floral Design: By Yena Designs
Ceremony and Reception Venue: Maritime Parc
Videography: Live Picture Studios