Blue Hill at Stone Barns simply exudes romance. The rustic elegance of it's nature-inspired setting makes for a magical day – and the perfect backdrop for my clients Julia and Jonny to begin their lives together. I asked Julia to give me a little background on her wedding story, in her words. And from the moment they met (which seems right out of a rom-com) to dancing the night away under the stars, their story is one to remember.
It was a random Tuesday night in February in New York City. Jonny had come home from a company holiday party, ready to call it a night. But his good friend Brian had other plans, and twisted his arm to meet up at a place called Bar XII in Murray Hill – where I just so happened to work at the time. To convince him, Brian promised that, if he came, Jonny would "meet the love of his life." As luck would have it, I was Jonny's waitress that evening, and the rest is history. The best part: at our rehearsal dinner, Brian presented us with a framed receipt from that very night. Everyone was in tears!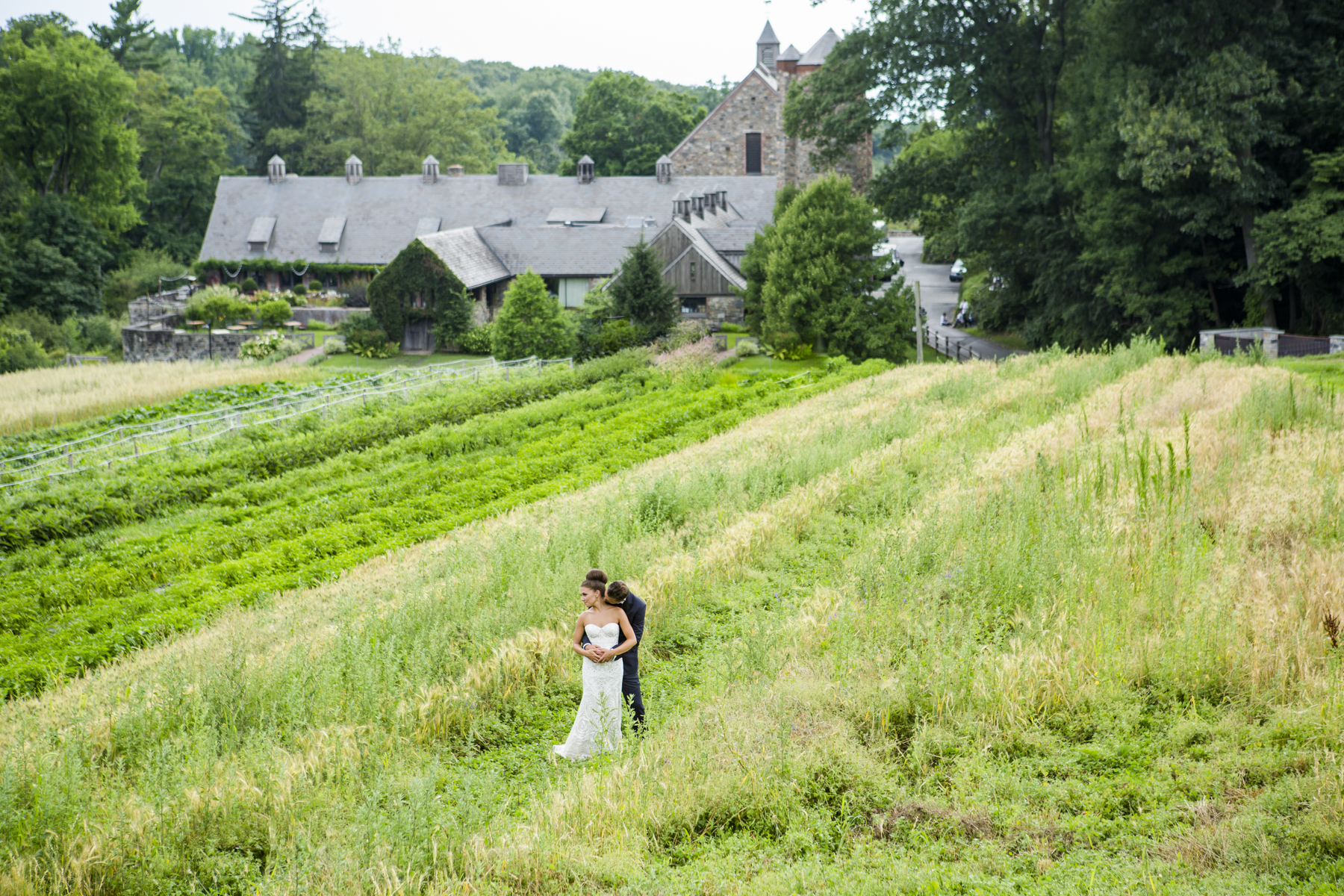 What were some of your favorite moments from your wedding?
The amazing food and service at Blue Hill. Their food is unlike anything else and their service is just as great, if not better. Thanks to their professional and diligent staff, we didn't worry about one thing before or during our day.
All of our vendors were just as great and were so happy to work with the team at Blue Hill. Stand out moments include taking pictures with Dave in the beautiful fields before our ceremony, the thoughtful speeches during dinner, and peeking outside during dinner to see the incredible dance floor under the stars, just waiting for us in the courtyard. And the dancing! Can't forget the dancing, specifically the hora. The joy exuded by our friends and family during that dance was just amazing. It set the mood for the rest of the night.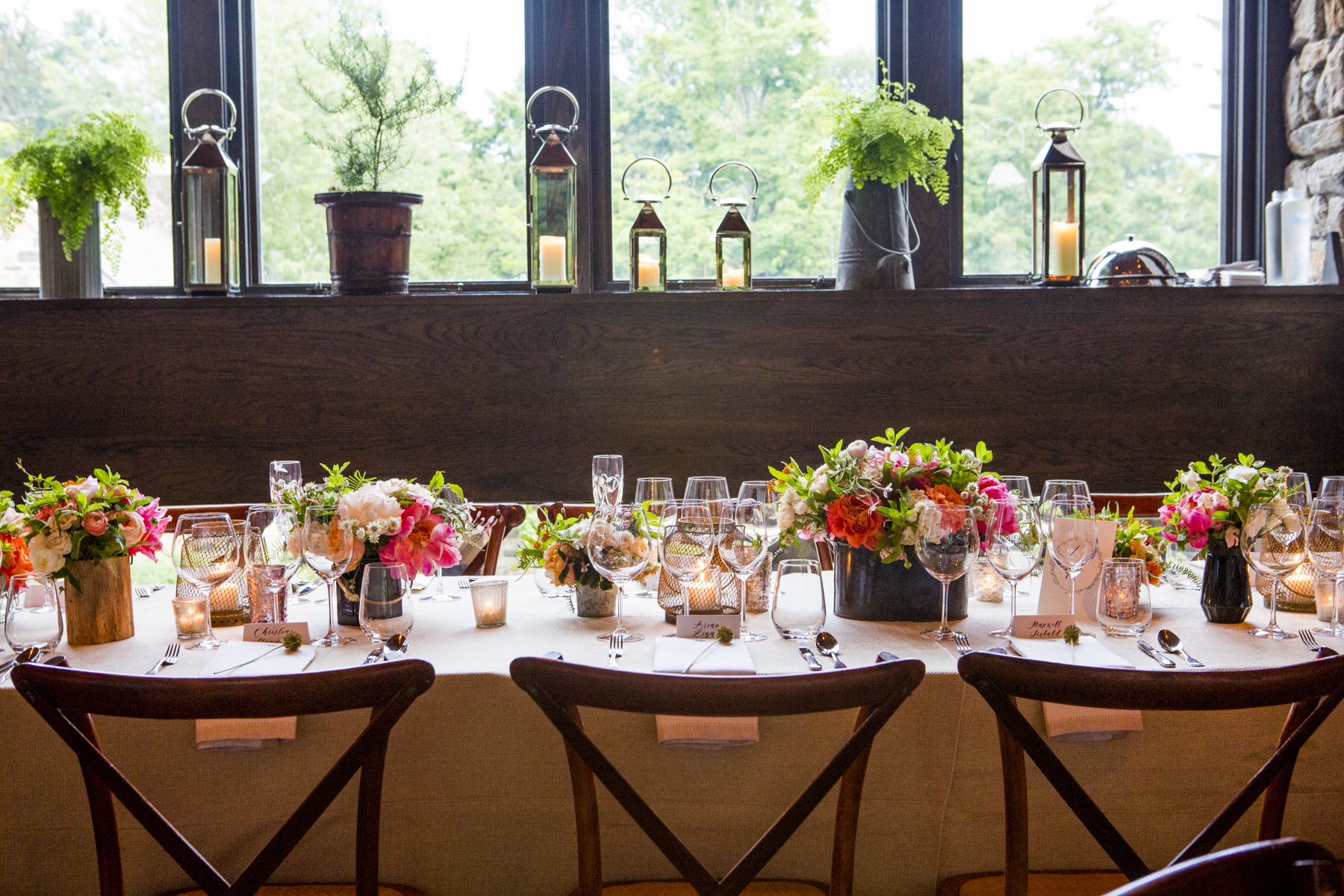 From décor to mood, can you share the inspiration and goals of your wedding day?
From the beginning, we knew we wanted something that was truly elegant, but not black tie. Since I'm from Pennsylvania, and we both really appreciate the outdoors, we really wanted to incorporate a country feel into our day.
It was also important to us that our guests felt comfortable, and that the vibe encouraged them to relax and enjoy. We had all our favorite people in the world together in one place, and we just wanted to celebrate with them! The incomparable event planner Matthew Robbins made our vision come to life as it relates to the ambiance and detail. We chose more vibrant colors for dinner, but really didn't want to take away from the beauty of Blue Hill, so a lot of greenery and soft colors everywhere. He nailed it, as he does every time.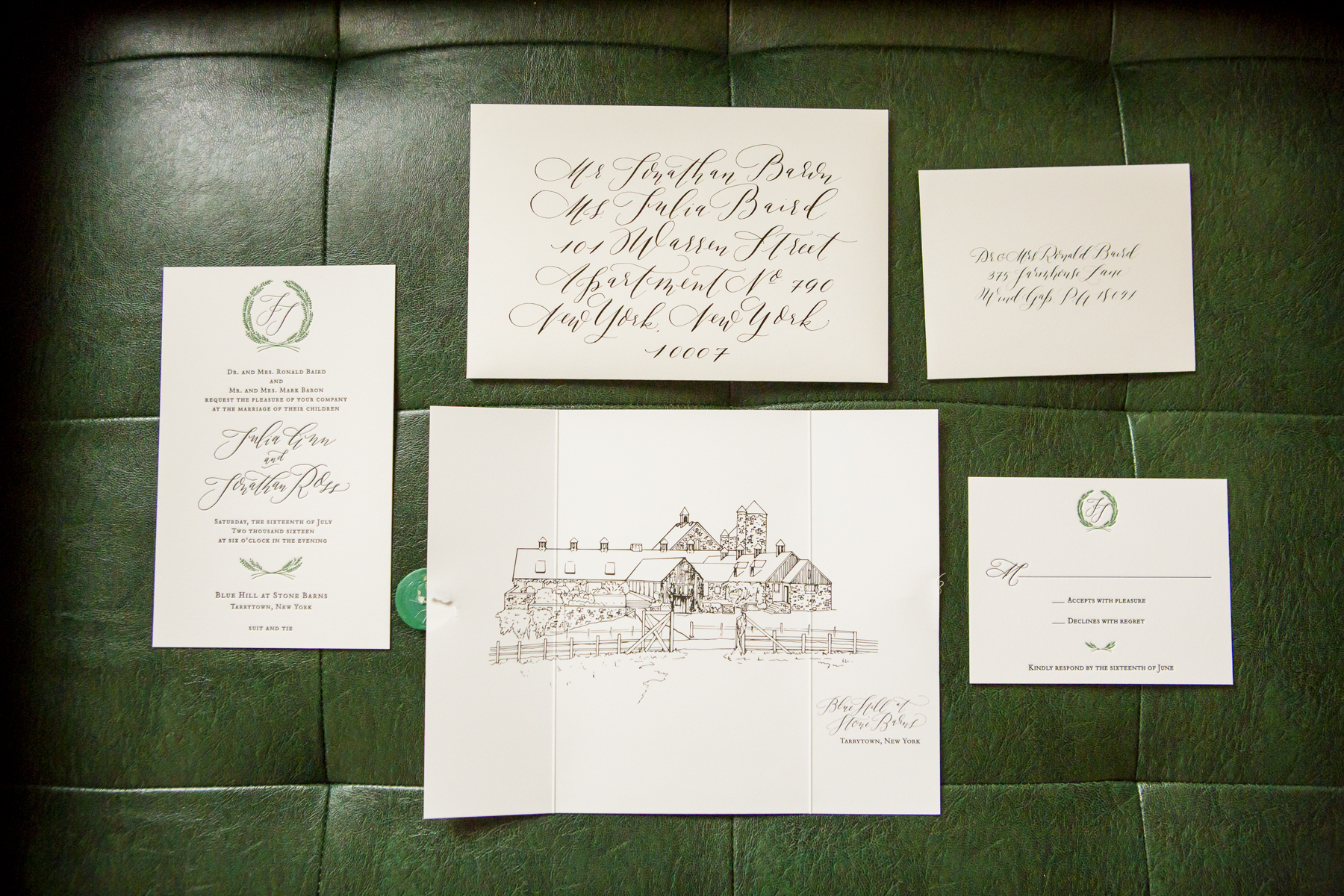 Katie Fischer, who designed our invitations, did a really great job at capturing the feeling we were looking for. Her invites set the mood long before the day itself. She also created a logo that we carried throughout all of our designs (napkins, matches, etc.).
In terms of photography, we didn't want to focus a lot on portraits. What we really wanted was to be able to look back at our photos and see candids of each other and the people we love. The moment we looked at Dave Robbins' website, we knew he was our guy.